So today I wanted to review for you a cheap blush that I think is very good quality for the price. If you haven't noticed yet, yes I do have an unhealthy obsession for blush. I absolutely love it, my absolute favourite is coral peach colours which I just feel are universally flattering. BYS products are sold at several different stores, with Kmart being one of the biggest. I bought both of my blushes from Kmart, the first quite a while ago and the second recently in a sale. I think they retail for around $5-$6 AU but I cant find the exact price online.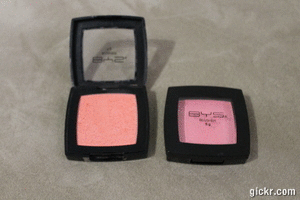 BYS Blusher
I have two shades of the seven that are known as compact blushes or blusher. My shades include coral which is lovely peach shade and pretty in pink which is a bright bubblegum pink in the pan. These are both quite shimmery but I don't find that they settle in my pores or draw more attention to them.
Swatch of L-R Pretty in Pink and Coral
I find these to last around 3-5 hours on my skin, longer when primed and set with translucent powder. I think these are slightly lacking in pigmentation but they can be built up without looking too scary! Unlike my sleek blushes I am unlikely to stuff up and look like a clown with these which is nice to know if I am in a rush. I probably wouldn't bother buying all the shades as they do look all fairly similar on the BYS website, mainly consisting of peach coloured shades and lighter and darker shades.
If you are looking for a cheap but good quality blush then I would recommend that you try one of these blushes out.
Love Liz xx